Hangzhou Honglingtong Information Technology Co., Ltd ("HLT"), a subsidiary of CKTECH group, has recently been awarded as NXP Gold Partner. CKTECH group has initiated a comprehensive and in-depth cooperation with NXP since 2020 and become the first domestic partner of NXP LA12XX SoC chip in China, and the first partner in the industry to actually use LA12XX's VSPA and FECA to make 5G calls.
Based on the trust in the R&D strength of Changkun Technology and the goal of jointly promoting the advanced SoC-based chip-level O-RAN platform, NXP has certified Honglingtong as a Gold Partner to provide NXP's global 5G partners with software/hardware design, development and technical support services for 5G base stations.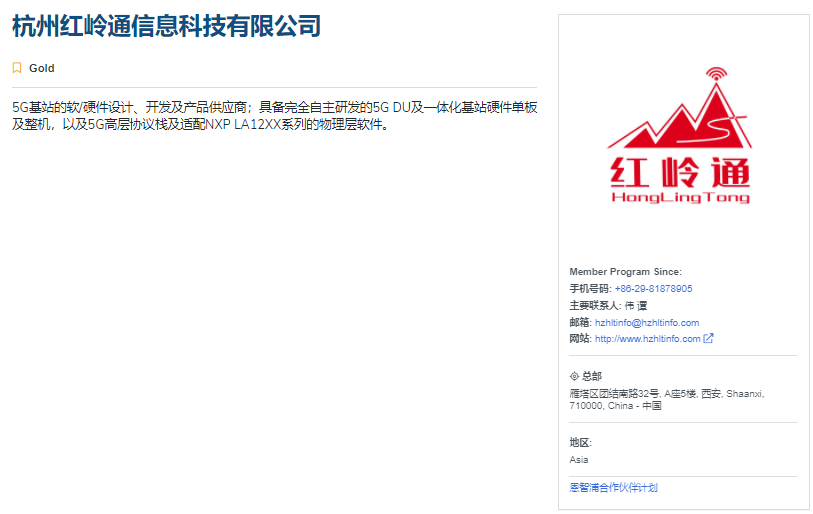 Located in China (Hangzhou) 5G Innovation Valley, HLT is a high-tech communication enterprise focusing on independent research and development of 5G base station software and hardware platforms and products, and is a wholly-owned subsidiary of CKTECH group. Its core R&D team are all from internationally renowned communication companies, with more than 15 years of experience in developing 4G/5G base station products and protocol stacks, as well as professional technical service capabilities. The core R&D team has participated in the formulation of 3GPP 4G/5G related standards and has profound experience in 4G/5G technology theory and application.
HLT R&D team is deeply engaged in the research and development of software and hardware in the 4G/5G area, and the base station platform. Based on NXP's ARM and SoC chip platform, the team has realized a series of developments around the 5G base station basic platform, including 5G base station L1/L2/L3 layer protocol stack software, 5G base station baseband board, integrated 5G base station platform, etc., which can be deeply customized according to customers' requirements.
In the future, CKTECH will work together with HLT to continuously deepen the research of 5G basic platform, focusing on platform, baseband, protocol stack, customized products and solutions to provide customers with new products and new solutions that are more suitable for the industry and realize industry empowerment. We also welcome customers and partners who are interested in 5G infrastructure platforms and customized product solutions to join hands with CKTECH and HLT to create a better 5G future.
NXP official website link:
https://www.nxp.com.cn/webapp/connect/displayPartnerProfile.sp?partnerId=18761