The 5G Smart Factory adopts self-developed 5G Base Station platform on ARM and SoC and industrial-grade CPE terminal platform. The UPF sinking deployment or building dedicated 5GC helps companies build 5G Smart Factory network to accelerate digital and intelligent industrial transformation and improve production efficiency.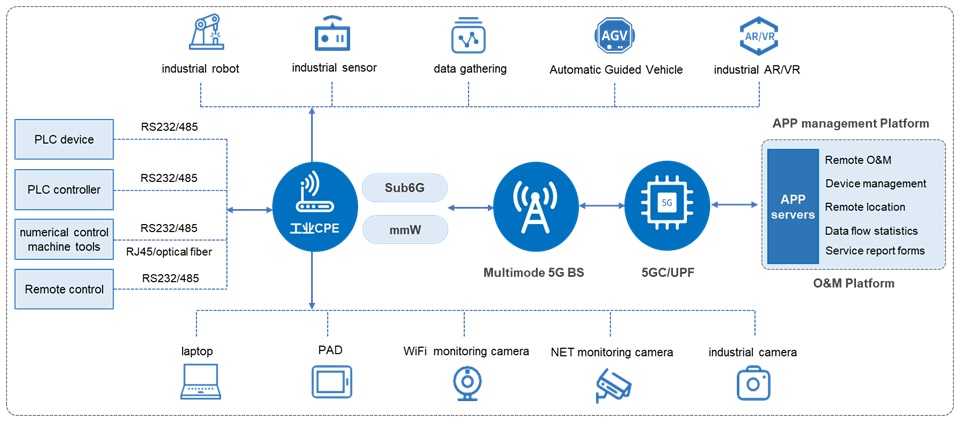 Network architecture diagram of 5G supper factory
5G Smart Factory can be divided into outdoor and indoor/workshop coverage according to different coverage scenarios, as well as other special scenario coverage, such as underground coal mines, tunnels, etc. CKTECH has rich experiences in product development and private network planning and design, and has created an E2E product series and 5G Smart Factory solution from Core Network, Base Station to industrial terminal.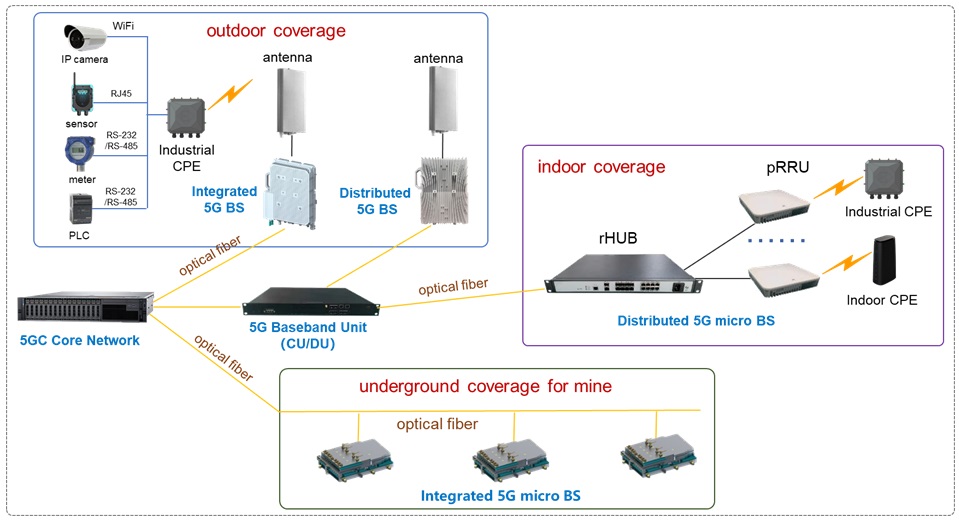 End-to-end 5G product series
The 5G Smart Factory Solution combines innovative multi-mode Base Stations with super uplink technology solutions, using factory UPF sinking deployment or building factory-specific 5GC Core Networks to secure a dedicated 5G network for smart factory. The 5G Smart Factory Solution has the following features.
a) A wide range of E2E product series and multiple product forms to cover different scenarios such as outdoor and indoor/workshops in factory, as well as other special coverage scenarios such as underground coal mines and tunnels, which can provide customized 5G access network and wireless coverage solutions for smart factory.
b) Build a 5G Smart Factory based on high-speed industrial IoT through the innovative technology of 5G Sub-6G + mmW multi-mode aggregation to achieve 5Gbps+ super peak data throughput in a single cell.
c) Combine with UPF sinking deployment or build a dedicated 5GC Core Network for the factory to achieve local offloading of industrial data, which can fully protect the privacy and data security of factory customers because the data doesn't leave the factory.
d) Various types of 5G Base Stations and 5G industrial CPE terminals have been developed according to the requirements of 5G smart factory solutions with enhanced designs for industrial applications. 5G Smart Factory solution provides ultra-broadband and ultra-low latency wireless transmission links for industrial automation and smart manufacturing applications.